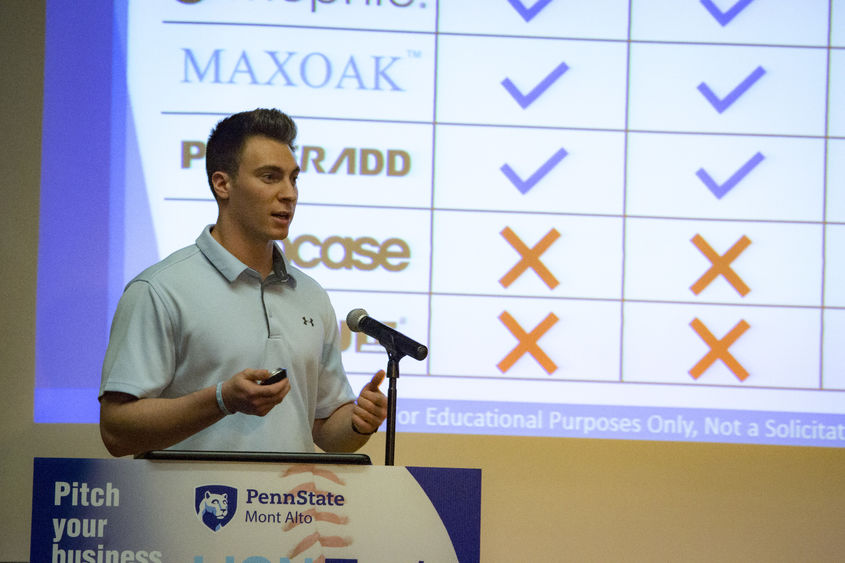 MONT ALTO, Pa. — Chad Held, a student at Penn State, was frustrated by his laptop running out of power during classes. That frustration energized him to create the XtraLyfe Laptop Charging Station. XtraLyfe acts as a carrying case and charging device with up to four times the battery power of a laptop, and with multiple outlets for charging other devices. The invention won first place at last Wednesday night's LION Tank, an event presented by Penn State Mont Alto through the Mont Alto LaunchBox.
Aspiring entrepreneurs are invited to submit ideas and business plans to LION Tank. The top five applicants pitch their ideas to a panel of business experts during a "Shark Tank"-like competition, which is open to students and the community.
Held won $1,500 and one-year's access to LaunchBox's business studio in downtown Chambersburg, Pennsylvania. "The prize money will be a huge steppingstone in completing my final design to open to the public to purchase," he said.
Michael Miller and Jack Quill, also students at Penn State, won second place and $1,000 for Loancrunch, an app that helps students understand, manage and repay their student loans.
Other entries included:
Thunlwyn Garcia: TEMPRO, a shoe insert designed to provide comfort and padding, as well as cooling properties in warm conditions and warming properties in cool conditions.
Jeremy Guzman and Michael Abraha: Mass Adoption LLC, a service that expedites the adoption of cryptocurrency and blockchain use cases.
Tyler Hahn, Aiden Smith and Anthony Garland: DropSpace, a physical marketplace for suppliers and consumers to transact food-related products.
Before adjourning for deliberation, panel judge Tom Trgovac addressed an audience of about 80 people who gathered in the General Studies Auditorium on the Mont Alto campus to watch the competition.
"I want the contestants to understand that, while only two can be winners tonight, please don't be discouraged if you don't win. Every one of you has presented a viable business idea. I am very impressed," he said.
To register for next year's LION Tank, go to montalto.psu.edu/launchbox.
LION Tank is part of Penn State Mont Alto's commitment to diversifying economic opportunities and stimulating idea generation.
"We have made significant investment in building an entrepreneurial ecosystem that promotes students' career success and economic development in Franklin County (Pennsylvania)," said Francis Achampong, chancellor of Penn State Mont Alto and the host of LION Tank. "This LION Tank competition is part of a deliberate effort to invite those who are willing to tinker, build, experiment and challenge the status quo, so that they can make their dreams a reality with the assistance of Mont Alto LaunchBox."
About Mont Alto Launchbox
Mont Alto LaunchBox powered by Penn State provides early-stage startups with support and resources they need to build a sustainable and scalable business and a viable plan for growth. No-cost programs and services include coworking space, accelerator programs, free legal and intellectual property advice, and expert mentorships from Penn State's extensive network. LaunchBox is open to everyone — community members and those affiliated with Penn State. Mont Alto LaunchBox powered by Penn State is a signature program of the Invent Penn State initiative and one of 21 innovation hubs located in Penn State campus communities across Pennsylvania. Learn more at https://montalto.psu.edu/launchbox.