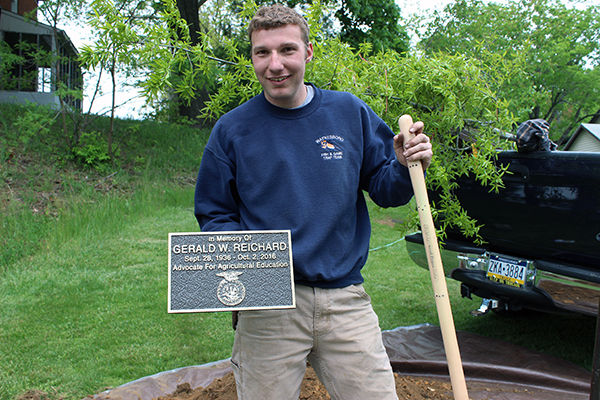 MONT ALTO, Pa. ― On May 4, Forestry Instructors Craig Houghton and Beth Brantley took time from grading papers during finals week to assist former forestry student, Brett Reichard '16, in planting a tree in the memory of his grandfather, Gerald W. Reichard, who passed away in October 2016.
Reichard selected a willow oak and it is located behind the Multipurpose Activities Center, near the George Perry House on campus.
"After my grandfather passed away, I wanted to plant a tree in his memory," said Reichard, "and I didn't remember a willow oak being anywhere near here. Now students won't have to walk so far," he said with a smile, referring to Penn State Mont Alto's dendrology course where students learn to identify trees in the outdoor classroom that is the Penn State Mont Alto Arboretum.
Reichard's father, also Gerald, and his brother, Chad, joined in the effort, making it a family affair.