Penn State Mont Alto hosts Third Annual Choral Festival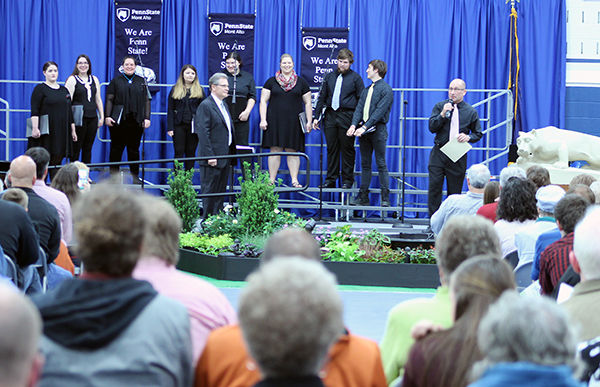 MONT ALTO, Pa. — The Penn State Mont Alto Student Chorale hosted 140 students from four other area schools in a grand evening of choral performances during Penn State Mont Alto's Third Annual Choral Festival on the evening of May 6 in the Multipurpose Activities Center (MAC).
"The Penn State Mont Alto Annual Choral Festival is a wonderful opportunity for participating students, parents and friends to experience the rich choral heritage of the Cumberland Valley," said J. Frederick Davison, Penn State Mont Alto Student Chorale music director.
The Chorale delighted the audience of about 300 music enthusiasts with the first performance of the evening by singing "Music from the Stage and Screen," that featured musical selections from "The Fantasticks" — "Try to Remember"; "Wicked" — "Defying Gravity"; "Les Miserables" — "I Dreamed a Dream"; and a "Fly Away" medley.
The other schools included Fairfield Area High School Stars of the Knight Chamber Singers, Shalom Christian Academy High School Ensemble, Shippensburg Area Middle School's "The Accidentals," and the Waynesboro Area Senior High School Chamber Choir.
Their performances "demonstrated the breadth and depth of recently composed choral works, and the excellent work being done by music educators and students in our area," said Davison.
"Successful endeavors in music require imagination, discipline, and teamwork, and these qualities were amply displayed during the festival," he said.
"Next year, we plan to bring the voices from all of the participating schools together to conclude the concert, and I look forward to experiencing that glorious sound."
Kathryn Miner, wife of the late John A. Miner, generously established the Miner Endowment for the Penn State Mont Alto Student Choir in 2013. As part of the endowment, the Student Chorale performs on and off campus each semester and hosts the annual Choral Festival.
More photos from the evening are available here.