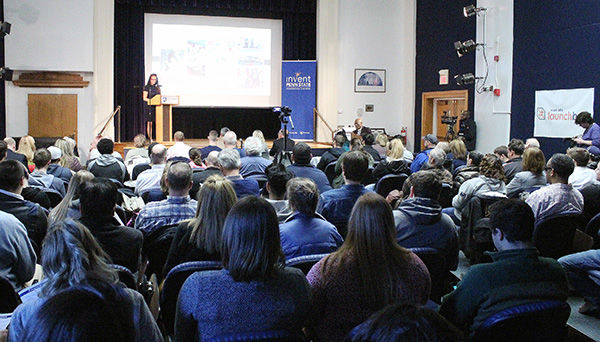 MONT ALTO, Pa. ― Penn State Mont Alto's General Studies Auditorium had a packed house on Friday evening, March 16, when five competitors went head-to-head during the Mont Alto LaunchBox Inaugural LION Tank Competition.
During the event, which resembled the popular television show "Shark Tank," competitors pitched their business ideas to a panel of judges. The top two most viable were selected to receive grants of $1,000 and $1,500 along with a year's access to the Mont Alto LaunchBox and additional services to help get their products into the marketplace.
"An award is only as good as the competition around you," said Kirsten Hubbard, a Waynesboro resident, who took first place. "I am amazed to be given the award with the level of competition that was here tonight," she said.
Hubbard presented Ghost Writer, a business that offers grant-writing, development and marketing services to small and medium-sized non-profits.
Penn State alumnus Kyle Snowberger of Chambersburg, Pennsylvania, took second place with a product that would allow for the delivery of large volume payloads to Earth orbit, thereby reducing the cost per pound of satellite delivery. He was pleased with the award because he felt it verifies his product's potential.
Three Penn State students also competed, including Jo-Ann Fiorenza, who presented ShapePUP, a health-monitoring device for pets, which she developed along with Hanna McEntire. Nathan Woleslagel's business idea, Trouty Apparel, offers custom-made apparel for outdoorsmen and fishermen.
Kenn Speaks, a Penn State York alumnus, also pitched Motion Memo, which offers personalized flip-book animation memo pads.
The judges were experienced not only with business start-ups but also in considering whether to fund them. They were Linsey Covert, CEO of TEAMology; John Rotz, a retired high-ranking bank administrator, most recently from First Community Bank of Mercersburg; and Tom Trgovac, CEO of Global Data Consultants.
While the judges conferred, many audience members won prizes and joined the Nittany Lion mascot in a Penn State cheer.
"Everything went well this evening. Everyone seemed excited," said Penn State Mont Alto Chancellor Francis K. Achampong. " We will do it again next year and hope that tonight's event will get the word out about the services the Mont Alto LaunchBox can provide to help entrepreneurs get their business ideas into the marketplace."
The LaunchBox is a business incubator funded by Penn State's Invent Penn State initiative. The facility opened in January at 40 N. Second St. in downtown Chambersburg and includes a conference area, a kitchenette, a 70-inch screen for presentations, desks and a 3-D printer to help create product prototypes. Aspiring entrepreneurs can also use LaunchBox services, such as receiving legal assistance from Penn State's law school to set up a new company or file a patent for a product.
More information about the Mont Alto LaunchBox is available at montalto.psu.edu/launchbox.
See more photos of LION Tank here https://www.flickr.com/photos/psuma/albums/72157666793287008