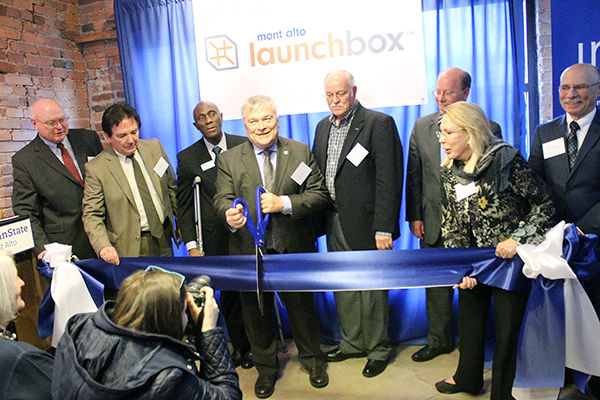 MONT ALTO, Pa. ― On April 3, Penn State President Eric J. Barron and Penn State Mont Alto Chancellor Francis K. Achampong were joined by other Penn State administrators and local community leaders for a ribbon-cutting ceremony to celebrate the opening of the Mont Alto LaunchBox ― a business incubator funded by Penn State's Invent Penn State initiative.
Located at 40 North Second Street in Chambersburg, Pennsylvania, the Mont Alto LaunchBox is an innovation hub offering free resources and support to entrepreneurs in a co-working space to help business startups. It is open to the Penn State community and the general public.
"Today Penn State has 21 innovation hubs across Pennsylvania including the one we are dedicating today," said Barron.
"Each reflects the unique character of the campus and surrounding community; but all share a common mission: to inspire and advance innovation and entrepreneurship, and to help transform great ideas into viable products and business opportunities."
Barron said Invent Penn State is having a significant impact as reported during its first year of activity in 2016-17, with only five of the innovation hubs open for the full year. Some results include engaging more than 2,500 faculty, staff and students in entrepreneurial activity; supporting hundreds of community entrepreneurs; developing 80 new products and launching 79 startups; and creating 110 student internships.
While the Mont Alto LaunchBox officially opened in January 2018, Achampong pointed out that it has already held several activities beginning with an open house in November 2017, workshops for aspiring entrepreneurs in February and March, and most recently, a LION Tank Competition like the popular TV show Shark Tank also held in March. During LION Tank, five entrepreneurs pitched their business ideas to a panel of judges. The top two received grants of $1,500 and $1,000 and will have a year's access to the LaunchBox facility and additional services to help them get their products into the marketplace.
"This ribbon cutting comes on the heels of these strides," said Achampong. "I am delighted to have you here today to formally cut the ribbon to the Mont Alto LaunchBox and keep it moving full steam ahead."
Also speaking during the ceremony was PA State Rep. Paul Schemel; Mike Ross, president of the Franklin County Area Development Corp.; and Richard Heddleson, regional director for the South Central Office of the Ben Franklin Technology Partners of Central and Northern Pennsylvania.
Through its innovation hubs, Schemel said Penn State is following in its tradition of being a land-grant institution by continuing to bring the practical power of research and the academy to the farmers in the field, to manufacturers, and now to entrepreneurs.
"What a phenomenal model to follow and I am so glad to have it here in our community," he said.
Ross said the FCADC welcomes the opportunity to work with the Mont Alto campus in support of the LaunchBox.
"Today's event is validation of the University's commitment to developing future generations of entrepreneurs capable of creating transformative change."
Ross named several local entrepreneurs who transformed the Franklin County economy, such as Chambersburg's TB Woods. Founded in 1857, it has operated continuously for 161 years. Among others, he also named John Grove, who created two companies both of which are publicly traded, Grove Manufacturing (now part of the Manitowoc Company) and JLG Industries (now part of Oshkosh Corporation).
"I cannot overstate the importance of small business start-ups to the growth of our economy and the importance of this center," said Ross.
Heddleson said Ben Franklin is proud of its 35-year association with Penn State in assisting both start-ups and small manufacturers with the development of technologies and products that create new jobs for Pennsylvanians.
"The advent of Invent Penn State brings new opportunities for us to assist student entrepreneurs in establishing their first enterprise, accelerating the transfer of technology that is the result of research by our universities to commercial use and increasing value for all by being more deeply involved with our local communities," he said.
Two LION Tank participants attended the event and were available to discuss their business ideas. Penn State student Jo-Ann Fiorenza's idea is ShapePUP, a health-monitoring device for pets. Penn State alumnus Kyle Snowberger, who took second-place for his idea about high altitude air launch orbital delivery, was also present.
"Today with this dedication, we envision a focused effort to generate innovative, commercially viable solutions to address emerging business needs in this region and beyond," said Barron.
"I know this is only the beginning of great things for this region. I hope you'll take in some of the activities afforded by this commitment, he said.
The Invent Penn State initiative was launched in 2015 by Barron and is aimed at driving job creation, economic development and student career success by connecting aspiring entrepreneurs to those who can help bring their ideas to the marketplace.
More event photos.