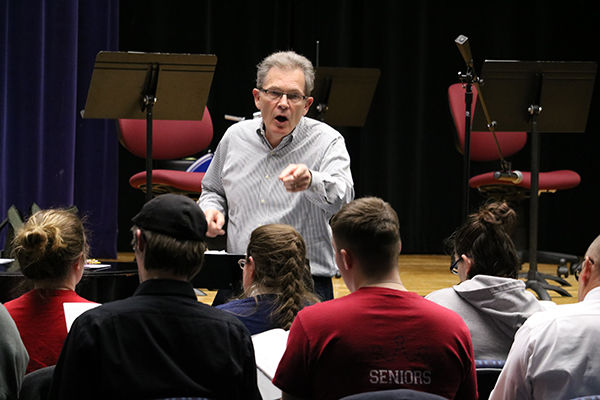 MONT ALTO, Pa. — The Penn State Mont Alto Chorale will perform "Music from the Stage and Screen" during its spring concert beginning at 7 p.m. April 29 in the General Studies Auditorium under the direction of music instructor J. Frederick Davison. It is open to the public and free of charge.
"The selections chosen for this performance cover the gamut of emotions from the joyous to the sorrowful, the sincere to the irreverent, and the serious to the humorous," said Davison. "There is something for everyone ― the young, the old, and those somewhere in between."
The performance will feature well-known musical selections from beloved and award-winning musicals produced from 1943 to the present, including selections from "Oklahoma!," "West Side Story," "Phantom of the Opera," "Chicago," "Hair," "Rent," "Jersey Boys," "Spring Awakening," "Aladdin," "Pitch Perfect," and "Dear Evan Hansen."
The concert includes vocal solo performances by Marissa Bubbenmoyer, Taryn Sloat, and Chloe Fisher. Jonathan Parsons will perform a piano solo of Scott Joplin's rag, "The Entertainer," featured in the 1973 film "The Sting."
Also performing will be Mont Alto Chorale pianist Jamie Buxton, who is pianist for the Gettysburg Children's Choir and Gettysburg High School Ensemble; pianist Ken Shockey, a retired electronics and software design engineer; bassist Paul Bart, Penn State Mont Alto lecturer and information sciences and technology program coordinator; and percussionist David Zygmunt, a career military musician and freelance artist.
Davison is the former director of the University of California, Los Angeles (UCLA) University Chorus and The National Presbyterian Church Chancel Choir in Washington, D.C. He has professional experience as a baritone vocalist in leading roles in opera, musical theater, and oratorio in Washington, D.C., Baltimore, and New York. He holds degrees in vocal performance from the Catholic University of America and Peabody Conservatory of Music and a doctor of musical arts degree in conducting from UCLA.
Contact
Debra Collins
Director of Public Relations and Marketing, Penn State Mont Alto