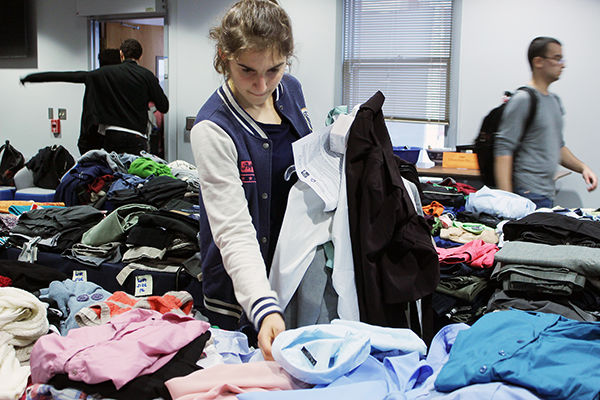 MONT ALTO, Pa. — Penn State Mont Alto held its third annual Career Closet, Sept. 24 to 26, in the Wiestling Student Center, offering free professional clothing to Mont Alto students for interviews, internships and job placement.
"Because some students may not have what they need to present themselves in a professional manner to prospective employers, the Career Closet is a way to ensure they have appropriate workplace attire at no cost," according to Penn State Mont Alto Career Services Counselor Patricia Gochenauer.
Human Development and Family Studies student Santiago Morillo said the Career Closet is helping him to be prepared. "When I apply for internships and jobs, I want to be presentable," he said, as he carried an armload of clothing to the checkout line to be sacked for easy takeout. "It is always good to make a good first impression."
Business student Rachel Martin wore clothes acquired at last year's Career Closet during her summer job and will put her new selections to good use as she applies for internships this spring.
"I am excited," she said. "It is expensive to buy business clothes."
The event started in 2016 when a member of the 11/30 Network—a group of Franklin County young professionals—had collected gently used clothing for use during a business fashion show and wanted to donate it to young professionals in need. Gochenauer saw the opportunity to help students who cannot afford professional attire.
About 1,400 items were donated this year, according to Gochenauer, not only from members of the 11/30 Network but also from the campus community and community at large. In addition, Ulta Beauty Distribution Center in Chambersburg has continued to donate cosmetics and personal hygiene products.
The 11/30 Network continues to support the effort. "We held some clothing drives," said Tracy Ross, 11/30 Network steering committee chair, who was on hand to help with the event and assist students. "We are always looking for ways to contribute to local schools because the graduates will be our next young professionals," she said. "I wish this existed when I was in college." Ross, who is a partner at Keller, Keller, Beck and Ross LLC, also serves as a member of the Penn State Mont Alto Advisory Board.
Those who acquired Career Closet clothing also submitted applications for a chance to receive an extreme makeover, sponsored by the Crown Beauty and Barber Lounge, Game Face Beauty, and the Penn State Mont Alto Alumni Association Board. In October, Career Services will select two students from a random drawing to receive makeovers and they will wear their professional attire for the "Big Reveal" during an annual THON fundraiser, Mr. Mont Alto Contest, in November.
No item will be wasted. Following the event, some items will be retained for next year's closet and the rest of the unclaimed items will be donated to Waynesboro's New Hope Shelter, according to Gochenauer.
For more information about next year's event, contact Gochenauer at [email protected] or 717-749-6104.