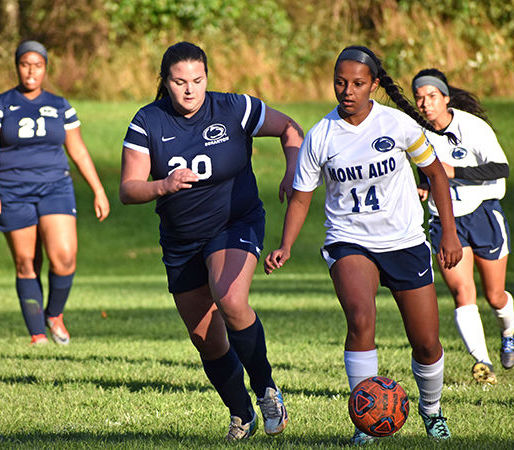 MONT ALTO, Pa. — As the tally of conference championships grows and more teams get bids for national playoffs, student-athletes at Penn State Mont Alto have their eyes on a bigger prize: academic success.
"Academics come first," said Staci Brennan, director of athletics at Penn State Mont Alto. "That's why they're here, to get an education and either graduate from Mont Alto in four years or successfully transition to University Park after two years."
The importance of excelling in coursework is emphasized during the recruitment process.
"We're talking academics right off the bat," Brennan said. "We emphasize the student in student-athlete. We always keep that in front of them."
The Mont Alto campus follows the academic eligibility guidelines set by the Penn State University Athletic Conference (PSUAC), but it holds its students to a higher standard. For instance, the conference requires student-athletes to maintain a minimum cumulative grade-point average of 1.8 to 2.0, based on the number of semesters they have completed, but Brennan said the goal at Mont Alto is for each athlete and team to have a 3.0 GPA or higher.
This year, that goal was met by many of the 125 athletes who take part in the 12 varsity sports offered at Penn State Mont Alto.
At the end of the fall 2019 semester, Mont Alto student-athletes had a cumulative grade-point average of 3.11, with 47 student-athletes named to the dean's list for achieving a grade point average of 3.5 or higher. Sixty-eight percent of student-athletes earned a 3.0 grade point average or higher, and for the past five semesters, the athletic department's cumulative grade-point average has been at or above 3.0, Brennan said.
"It's important for me to keep these numbers," said Brennan. "These numbers show the commitment they have to their academics; it shows that they're disciplined, and they prioritize their schoolwork."
Coaching for academics
Penn State Mont Alto's student-athletes are coached not only in their sport(s), but also in their academics. In fact, Mont Alto is the only Penn State Commonwealth Campus that employs an academic coach specifically for student-athletes.
Alex Dunn has been Mont Alto's athletics academic success coach since the fall 2019 semester. She monitors athletes' grades and provides academic counsel when they experience obstacles or struggles, including referrals to tutors or a learning specialist, and helping them develop an academic recovery plan. She also serves as the liaison between faculty and coaches.
"College is a transition for any typical student," Dunn said. "There are new challenges in relation to workload, time management, stress management, new responsibilities, growth, etc., for every student, but then, those who are involved in athletics experience that to an even more intense degree because they're balancing multiple roles. I work to emphasize and aid them mainly in the 'student' aspect of their identity."
Other support provided to student-athletes includes team study halls, the conditions of which are established by the athletic coaches; class excuse forms for athletic events; and first-year experience seminars. An Academic Support Center is available on campus for all students.
The faculty has access to a program called Starfish, which documents and tracks advising notes and progress reports for students. Faculty members can provide feedback on student performance in their courses through raising either "kudos" or "flags," Dunn said. When a flag is raised for a student-athlete, Brennan is immediately notified, and she touches base with the coaches and Dunn, who contacts the student to encourage a meeting to discuss challenges the student-athlete is facing and create a plan for helping them move forward.
"That line of communication is really solid," Dunn said. "We have that expectation that they'll thrive in the classroom, as well as on the field or on the court, and just as we have athletic coaches to help them succeed on the court/field, we have a coach to help them succeed in the classroom."
A balancing act
For those who are committed to academics and athletics, the keys to success are organization and prioritizing.
"Each day, I ask myself, 'What is today's priority?' One day, it might be turning in a paper, but another day, it may be focusing on a game," said soccer player Madison Shirley, 21, who is majoring in business management and marketing. "Once I can get all my work done, it's usually easier to relax and go to my other activities, like THON or intramurals."
The senior, with a cumulative GPA of 3.68, has made the dean's list for five semesters. She also has been lauded for her work on the field, being named to the Penn State University Athletic Conference (PSUAC) Honorable Mention Team last season and chosen as PSUAC player of the week in September 2019. She was dubbed a United States Collegiate Athletic Association (USCAA) All-American after her junior season.
"I have a planner that is filled with different schedules, and sometimes they're even color-coordinated," said Shirley, of Biglerville, Pennsylvania. "Organization is very important for me because if I wasn't [organized], I would be lost with all my other commitments. I try to balance my schoolwork and other activities as much as possible."
For junior Joseph Wunsch, 20, missing classes for baseball games on the road can be difficult.
"When you take a road trip, you are missing class, and the higher your academic year, the more important classes become," said Wunsch, a human development and family studies major.
While the Dover, Delaware, native said most professors post slides on an online course-management system, he misses the class experience and discussion that isn't captured on the web.
Wunsch made the dean's list in fall 2019 and was on the PSUAC All-Academic Team. He has received assistance in the past from an academic coach and the Academic Support Center for papers and speeches; he said the guidance they provided gave him confidence that he can do well on his own.
As a member of the cross-country team, sophomore Madison Ford, 20, is used to being on the run. The health policy and administration major doesn't want to fall behind in her schooling any more than she wants to lag in a race.
"Learning how to organize my schedule has helped me stay on track," said Ford, of Fayetteville, Pennsylvania, who made the dean's list during the first semester of her freshman year, and received the Academic All-Conference Award and the All-Academic Team Award.
Darrius Bush, 18, quickly learned that college is much different than high school in terms of workload.
The freshman, who is majoring in information-science technology, said he didn't have to study as much after practice when he was a student at Spring Mills High School in Martinsburg, West Virginia, as he does now.
"Basketball takes a toll on your body and being motivated to study is something I have a problem with," Bush said. "Having practice every day and games every other day makes you just ask for a break. Seems like for five to six months, all you are doing is studying and playing basketball."
Despite the adjustment, he made the dean's list his first semester at Penn State Mont Alto.
"The way I balance my priorities, basketball and life is by trying to take everything a day at a time," Bush said.
Aiding him in that quest were people at the Academic Support Center and Dunn.
"They all want success for everyone. They will let you know when you are off track and will have answers to pretty much any school-related questions," Bush said.
"They always say a degree is more important than a ball and a hoop," Bush said, something he tries to keep in mind so that he stays on top of his game on and off the court.
Athletic success
The commitment that Mont Alto student-athletes have for their sports is reflected in their top-notch performances. Many of Mont Alto's intercollegiate programs/teams qualify for conference playoffs, have won conference championships in the past several years and advanced to national championship tournaments.
In 2016, Brennan's first year at Mont Alto, the golf, women's cross-country, and baseball teams won conference championships, and the baseball team received an automatic bid to advance to the national championship. Last year, the men's basketball and baseball teams earned a bid to participate in their respective national tournaments.
This year, three fall teams — men's soccer, women's soccer and women's volleyball — qualified for conference playoffs. This winter, the women's basketball teams qualified for post-season play and the men's basketball team won the PSUAC conference championship and received an automatic bid to participate in the national tournament. The wrestling team won their regional championship and eight members of the wrestling team qualified for nationals that was held in Texas over the spring break.
For more information about athletics at Penn State Mont Alto, go to www.psumontaltoathletics.com. For details about academic support, hit "inside athletics," then "academic support."