New award to recognize student-athletes for academics, athletics and leadership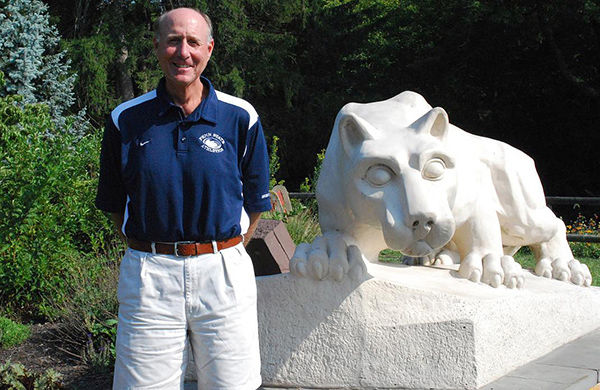 MONT ALTO, Pa. — A new award will be presented this upcoming April during Penn State Mont Alto's annual Academic and Leadership Awards Ceremony. The event, which honors students and faculty members for their accomplishments, will now include recognizing the Marty Ogle Student-Athlete of the Year.
This award, named after longtime Director of Athletics Robert "Marty" Ogle, will be presented annually to a current student-athlete from a men's team and a current student-athlete from a women's team who has distinguished themselves throughout their Penn State Mont Alto careers in the areas of academic achievement, athletic prowess and leadership. Student-athletes deserving of this award should also exemplify Ogle's qualities of caring, leadership and competitiveness.
In order to be nominated, student-athletes must meet the following criteria:
Have participated on an intercollegiate varsity team during the current academic year.
Have maintained a cumulative GPA of 3.0 or higher.
Have distinguished himself or herself on the field of play (e.g., school records/team records/conference records, received honors/recognitions, named to all-conference teams, named to All-American teams).
Exemplify Ogle's qualities of caring, leadership and competitiveness.
Ogle served as director of athletics at the Mont Alto campus for 28 years before retiring in June 2016. He served as a senior leader within the Penn State University Athletic Conference (PSUAC), holding the role of president of the Council of Athletic Directors for 15 years. He helped guide the CCAC, the predecessor to the PSUAC, through its transition from two-year to four-year eligibility, as well as the PSUAC's membership into the United States Collegiate Athletic Association (USCAA). Gaining membership into the USCAA allowed student-athletes to compete for national championships as well as earn recognition as All-Americans or Academic All-Americans.
While serving as Penn State Mont Alto's athletic director, Ogle also was the men's basketball coach from 1998 to 2008. He compiled a 178-62 record coaching the Nittany Lions to a CCAC conference championship in 2002. He guided the team to CCAC Eastern Division titles in 2000, 2001 and 2003, and earned CCAC Coach of the Year recognition during the same time span. Ogle passed away in March after a short and courageous battle with cancer.
"When Marty passed away, I publicly expressed the desire to find a way for the campus to appropriately recognize his legacy," said Francis K. Achampong, Penn State Mont Alto's chancellor. "The Marty Ogle Student-Athlete-of-the-Year Award will serve as a fitting tribute to Marty for the foreseeable future."
Recognizing student-athletes who embody the Penn State spirit of competition and excellence with the Marty Ogle Student-Athlete-of-the-Year Award will be a fitting tribute to Ogle's long service, energy and dedication to Penn State Mont Alto for years to come.