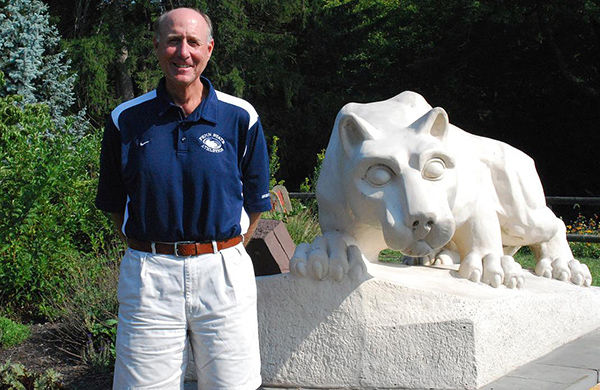 MONT ALTO, Pa. ― Longtime Penn State Mont Alto Director of Athletics Robert "Marty" Ogle died on Friday, March 29, after a short and courageous battle with cancer. Ogle served as the Mont Alto athletic director for 28 years before retiring in June of 2016.
Ogle was instrumental in building the intercollegiate athletic programs at Mont Alto into what they are today. When he first started in 1989, two years after the campus built the Multipurpose Activities Center (MAC), there were only four sports on campus and very few facilities. With his vision and passion for athletics and the leadership and support of the campus executive officers and chancellors, eight more athletic programs were added during his tenure. With Ogle's advocacy, the campus' leadership secured and committed funds to making major improvements to the soccer field, the construction of both the baseball and softball fields, and renovations of the fitness center and wrestling room in the MAC.
Ogle also served as a senior leader within the Penn State University Athletic Conference (PSUAC), holding the role of president of the Council of Athletic Directors for 15 years. He helped guide the Commonwealth Campus Athletic Conference, the predecessor to the PSUAC, through its transition from two-year to four-year eligibility, as well as the PSUAC's membership into the United States Collegiate Athletic Association (USCAA). Gaining membership into the USCAA allowed student-athletes to compete for national championships as well as earn recognition as All-Americans or Academic All-Americans.
Ogle was an accomplished local athlete where he graduated from Waynesboro Area Senior High School in 1970 and was a two-way star for the Indians on both the gridiron as well as the basketball court. Ogle continued his academic and athletic career at Shepherd University where he was an All-American fullback on the football team. He went on to complete both his bachelor's (1974) and master's degrees (1976).
While serving as Penn State Mont Alto's athletic director, Ogle also was the men's basketball coach from 1998 to 2008. He compiled a 178-62 record coaching the Nittany Lions to a CCAC Conference Championship in 2002. He guided the team to CCAC Eastern Division titles in 2000, 2001 and 2003, and earned CCAC Coach of the Year recognition during the same time span.
At the time of his retirement, he was presented with the Robert J. Scannell Roll of Honor Award at the PSUAC's 50th Anniversary Awards Banquet. The award is presented by the Conference Office on a yearly basis to an administrator, faculty, staff member or coach who exemplifies a longstanding commitment to student-athlete success and leadership within the PSUAC.
"Clearly, Marty was passionate about sports in general and collegiate athletics in particular. Not only did he play during his high school and collegiate years, his love for sports continued into his professional life as a coach and sports administrator," said Francis K. Achampong, Chancellor at Penn State Mont Alto.
"His infectious enthusiasm and passion for athletics will be remembered on campus and in the surrounding community by all who knew him. We will be thinking about an appropriate way to honor his legacy," remarked Achampong.
Ogle is survived by his wife, Samee; his three children, Keith Sheeley, Stacey Sawicki and Erin Hotchkiss; and his five grandchildren, Allison, Luke, Ethan, Emma and Elise.