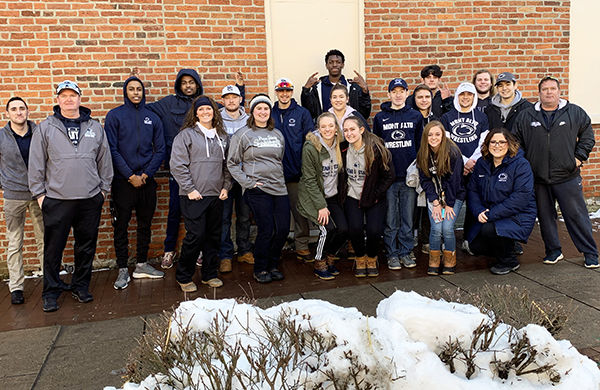 MONT ALTO, Pa. – Members of the Penn State Mont Alto Athletic Department and Student-Athlete Advisory Council (SAAC) volunteered their time and effort by helping at the double-wide ice slide at the IceFest in downtown Chambersburg on Sunday, Feb. 3.
The Chambersburg IceFest is the largest ice festival in Pennsylvania with events throughout the four-day festival including the official ribbon-cutting ceremony, live carvings, Snowfall Ball, Chili Cook-off, Polar Dunk Plunge, live glass blowing demonstrations, Icing on the Cake, the free double-wide ice slide and Run Your Ice Off 5K.
Members of the cheerleading program, volleyball, wrestling, men's basketball, baseball, softball, women's soccer and men's soccer teams assisted on the kid-friendly ice slide.