Spring Concert and second annual Choral Festival will highlight talents of Mont Alto singers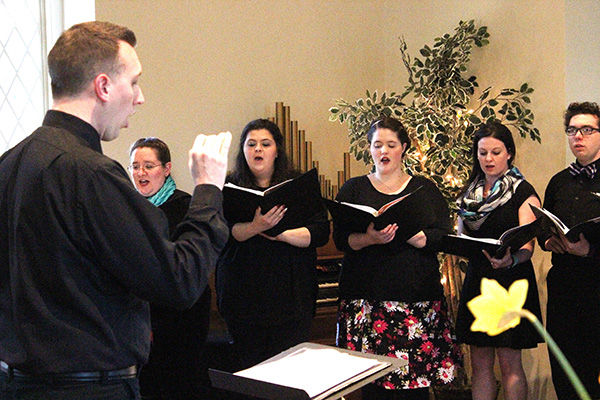 MONT ALTO, Pa. — The public is invited to join the Penn State Mont Alto Student Chorale in two choral performances. The first will be the chorale's spring concert at 7 p.m. on April 21 in the historic Emmanuel Chapel at no charge. On May 7, the chorale will be joined by 170 choral performers from four area schools during Penn State Mont Alto's Second Annual Choral Festival. The event will begin at 6:30 p.m. in the Multipurpose Activities Center (MAC). General admission is $5 per person at the door.

The spring concert entitled "Music from the New World" will feature songs composed or arranged within the last sixty years by composers from North and South America and the Caribbean, according to Music Instructor David Bowman.

The Choral Festival will be a grand evening of musical performances when the Penn State Mont Alto Student Chorale will be joined by five other choral ensembles: the Waynesboro Area Senior High School Chamber and Waynesboro Area Senior High School Concert Choir, Fairfield High School's Stars of the Knight Chamber Singers, the Shalom Christian Academy Tour Choir, and the Shippensburg Area Middle School Accidentals.

"We're excited to welcome some of the area's finest choral singers to the Penn State Mont Alto campus," said Bowman "Our annual choral festival has grown this year reinforcing Mont Alto's renewed commitment to choral music which would not be possible without countless hours of behind-the-scenes work from many faculty, staff, administrator, and student volunteers. This is a great opportunity to put choral music at center stage in south-central Pennsylvania and northern Maryland," said Bowman.

Kathryn Miner, wife of the late John A. Miner, established the Miner Endowment for the Penn State Mont Alto Student Choir in 2013. As part of the endowment the Student Chorale performs on and off campus each semester and hosts an annual Choral festival on campus.

For more information, contact Debra Collins, director of public relations and marketing at 717-749-6112 or email [email protected].