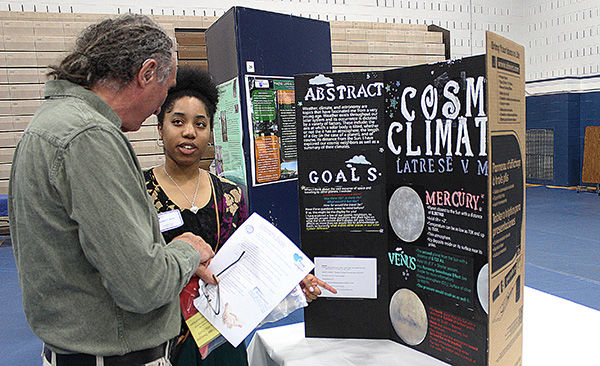 MONT ALTO, Pa. -- Chancellor Francis K. Achampong presented awards to students whose work placed highest from among 49 research-based projects during Penn State Mont Alto's 11th annual Academic Festival on April 22. A crowd packed the General Studies Auditorium for the awards ceremony in the General Studies Auditorium. Sponsored by F&M Trust, the Academic Festival highlighted students' best academic work for the year, including research-based projects, oral presentations, performances and informational exhibits.

Awards were also given to students for their best artwork. The 2016 Art Show exhibited drawings, paintings, and photographs in the Academic Support Center's Museum of Temporary Art.

More photos of the event are available https://www.flickr.com/photos/psuma/albums/72157665154080403

EXHIBITS

1st place — "Cosmic Climate," Latrese Morris
This project explored the weather and climate on various planets and moons within our solar system.

2nd place — "Alzheimer's Disease," Brooklynn Lowman, Ryan Shanholtz, Abigail Turner, and Kristen Tremper
This presentation provided information on the process of Alzheimer's disease and what to look for in family members or loved ones who have been diagnosed with it. The information included risk factors, signs and symptoms, procedures of diagnostic testing, treatments, and therapeutic techniques to help family and friends understand more of what Alzheimer's disease does to the human body and how they can help loved ones who are affected.

3rd place — "Newton's Law of Heating and Cooling," Courtney Song, Marisa Wurtz
Newton's law of heating and cooling is a mathematical expression that relates the temperature of an object to the time, being heated or cooled, using the rate of change. In this project, the temperatures of cakes were taken before, during, and after they were baked in order to test this law.

RESEARCH POSTERS

1st place — "How Students and Professors Prioritize Learning Goals," Grayson Whistler
The primary purpose of this research project was to confirm that students and professors prioritize eight basic learning goals differently. The secondary purpose was to determine how to lessen the effect of this difference in prioritization to improve the learning and teaching environment.

2nd place — "What Factors Improve Literacy?" Christina Crouse, Kara Timmons
This project explored the factors in early childhood education that have an impact on long-term and short-term literacy.

3rd place — "Mobility Program Project Proposal," Dawn Dellinger
Early mobilization is a proven strategy towards the prevention of functional decline. However, barriers such as time restraints, task prioritization, and a lack of ownership for this responsibility inhibit the success of this strategy. The goal of this program is to delegate the responsibility for mobilizing patients to a "mobility champion" — a specially trained individual who would prioritize mobilization of patients out of bed before each meal and the ambulation of appropriate patients at least three times daily.

PRESENTATIONS / PERFORMANCES

1st place — "Mira Lloyd Dock: The Mother of Forestry," Joshua Hersl
Mira Lloyd Dock was a progressive reformer and environmental pioneer. She was instrumental in the founding of the Pennsylvania State Forest Academy, beautifying Pennsylvania's cities, and the women's suffrage movement.
2nd place — "Phenology of Cultivars in the Bartlett," Dylan Kleine at the Landscape Tree Research Plot at Penn State Mont Alto
An overview of plant phenology and a description of data collection and analysis that focused on the phenology of cultivars in the Bartlett Landscape Tree Research Plot at Penn State Mont Alto.

3rd place — "Increasing Access to Health Insurance," Melissa Mercer for Latino Children in Franklin County
There is a high rate of uninsured Latino children in Franklin County. Lack of education in this particular population shows a correlation to the data provided. The project explored whether an increase in education decreases the rate of uninsured Latino children.

Certificate of Special Recognition and Appreciation — "The Zodiac Complex," Avery Pakstis
Pakstis presented a dramatic interpretation of a poem we wrote with regards to constellations.

UNIVERSITY LIBRARIES INFORMATION LITERACY AWARD

"Effects of Artificial Light on Coast Redwood Seedlings," Ryan Karroll
The poster explained early seedling development of coast redwood and the differences in using artificial light regimes. It also included a literature review on coast redwood seed germination and species characteristics.


ART SHOW PARTICIPANTS

1st place, "SSD Slate," John Wiesniewski
2nd place, "At the Beach," Karri Benedict
3rd place, "Sunset," Autumn Reckard

Honorable Mention
"Bamboo," Huiran Wang
"Colorado," Alexis Rothermel
"Fireman's Carnival,"Karri Benedict
"Funky Fish," Sara Daugherty
"Luna Moth," Andrew G. McKinley Jr.
"Rooster," Leah Higbee
"Samurai Mask," Phillip Grillo
"Tree," Bruce Kocsis
Contact
Debra Collins
Director of Public Relations and Marketing, Penn State Mont Alto