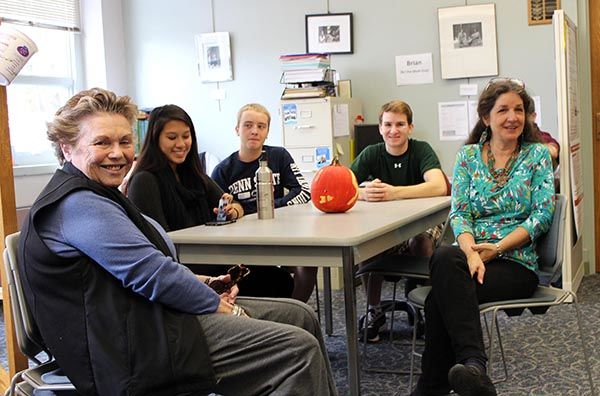 On Oct. 22, photographer Judith Carroll Moore shared her passion for travel and experiences of capturing images of people from countries around the world with about a dozen students and Freya Qually, senior instructor in art at Penn State Mont Alto, during a reception that officially opened her exhibit of black and white photography, entitled "Street People of the World."

The show includes images of people in countries from Saudi Arabia, Morocco, Sudan, Guatamala and other places closer to home, such as Trenton, New Jersey, Moore's former home. The exhibit will be on display in the Museum of Temporary Art, in the General Studies Building, Room 102, until around Dec. 16. The public is invited to view the exhibit at no charge.

The photographs were all captured with a Leica print camera and developed by Moore, who is a recent retiree and transplant to the Cumberland Valley. She said she is pleased to share her photography and stories with Mont Alto's students. "Just so some of the students can enjoy them."

Moore spent a number of years with an international company traveling around the globe where she was able to develop her interest and skill in photography. Unlike most photographers, her interest has always been in people and their immediate conditions, which is reflected in her prints.